Although I have worked with various materials over my time as an artist, I find the most direct route to authentic personal expression is through water media. I love the translucency and flexibility of the medium. It can be immediate and direct, or it can be layered and subtle.
At various times in my life as an outdoors person, I have been stopped in my tracks by the drama and design of nature – the patterns of a flying cloud of birds against a flat blue sky, the ghost white silhouettes of aspens against the darkness of a rising storm, the play of light on a flowing mane. That poetry, that shorthand for all the power and mystery of our earthly environment, is what interests me.
I strive to present the colors, rhythms, and movement of the natural world in a poetic, mysterious – sometimes whimsical context. I want people who see my work to be reminded of the drama that is unfolding constantly around them. I want them to take notice of the magic in small things.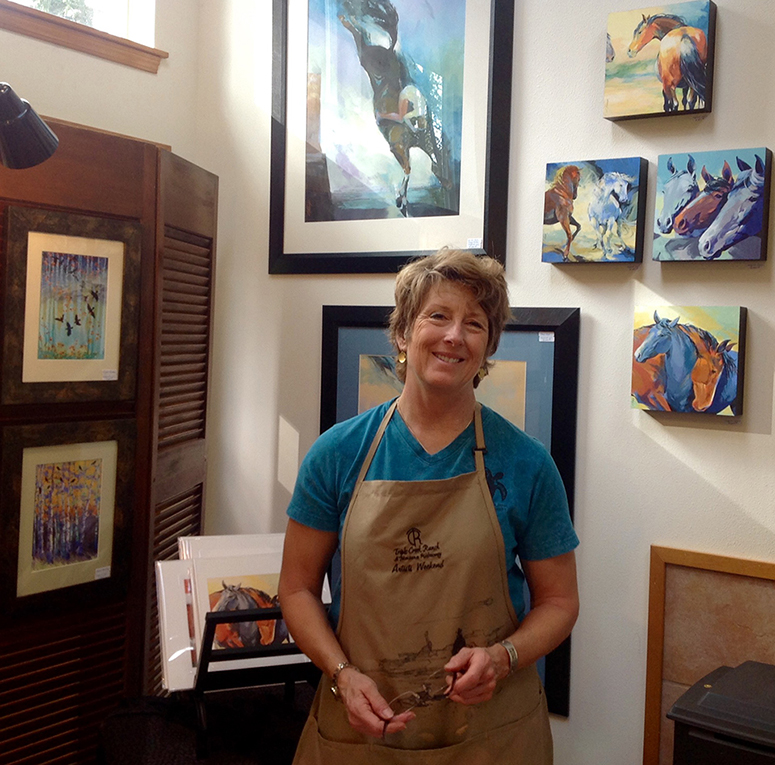 Biography
I began my artistic journey at the age of three when I became obsessed with drawing birds. As the daughter of a career Navy officer, I got to travel to Europe in my early teens. While in Italy, I was fortunate to have private painting lessons and to be able to study original Old Master and Impressionist works in their museum settings.
At age seventeen I was accepted at the Maryland Institute of Art in Baltimore, where I worked in a variety of media and styles, including sculpture, drawing, advertising graphics, and photo-realism. I went on to complete my fine arts degree at Jacksonville University. Late in my art education I discovered a love of watercolor.
Soon after graduation, I moved to Washington State, where I jumped at the opportunity to embark on a three-year trek around the western United States on horseback. The wild scenery taken in at a pace of 4 miles an hour from the back of a horse made a lasting impression on me. To this day it surfaces in various ways in my art. A part of this trip with pack horses was the subject of an episode of "Exploration Northwest", the popular Seattle-based television series. My continuing love of horses led to owning a small sport horse breeding and sales operation for over 20 years.
In the early 1990s I discovered another passion – public service through working as a professional firefighter. I retired from a 22-year career as a City of Bellevue firefighter. I am proud of serving the public for my last seven years as a Captain on an engine company.
My work has been accepted into several juried exhibitions, including those of the National Watercolor Society and the Northwest Watercolor Society.
My work has been displayed at galleries in Regina, Saskatchewan, Joseph, Oregon, and the Washington State cities of Bellevue, Kirkland, Twisp and Bainbridge Island. Currently I am represented by Liberty Bay Gallery in Poulsbo, Washington.
Now that I am retired from public service, I am enjoying devoting more of my energies to interpreting the world through my painting.
"Nature's color, patterns, and flow inspire me. I never tire of it, and I work to infuse my paintings with the energy and sense of mystery that this amazing world provides".
As William Shakespeare said, "The earth has music for those who listen."
Laura Kemp, 2015