The summer of 2015 was the worst wildfire season in history for the Northwest part of the country. It was also when I had reserved a cabin in the Madison Valley of Montana to focus on plein air painting for the first time in over 20 years. My first few days there were spent in a scenic splendor of dramatic mountains reaching towards brilliant blue skies.
Then the smoke moved in. My focus shifted from celebrating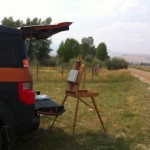 the clear, open vistas of SW Montana to trying to capture the atmospheric effects of massive wildfires, mostly from my home state of Washington. The Montana Smoke series was the result.